Chris Longmuir says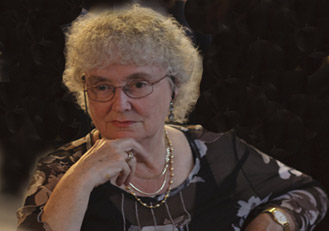 Dundee and crime are the mix I use to create stories about the dark side of life. There are no angels in my novels which illustrate the lives of drug users, pushers, gangsters, stalkers, and the people who live in their midst. The police characters are no different, they have their own demons to deal with. In a depiction of modern day Dundee, it is difficult to differentiate between the good guys and the bad guys.
My best selling books so far are the three books in the Dundee Crime Series, but that's to be expected because they were the first ones published. These three books form a series because the police characters remain the same throughout, although the main characters are not the police, which makes them standalone novels as well as a series, and they can be read in any order. I am continually surprised how popular, DS Bill Murphy, who is a bit of a loser, has become with readers. The first two books in the series won awards, both won the Scottish Association of Writers' (SAW) Pitlochry Award, and book two, Dead Wood, won the prestigious Dundee International Book Prize.
Last year I decided on a change of direction and published The Death Game, book one of the Kirsty Campbell Novels, a new historical mystery series with a touch of the gothic, featuring Dundee's first policewoman
But crime fiction is not the only thing I write. A Salt Splashed Cradle is a historical saga, a gritty romance set in a north-east fishing village. I have also published a nonfiction book, Crime Fiction and the Indie Contribution, which looks at the rise of ebooks and independent publishers.
I do hope you will take time to have a look at my books.
Details

Hits: 934
Chris Longmuir
Chris is an award winning novelist. She is best known for her Dundee Crime Series, featuring DS Bill Murphy. Night Watcher, the first book in the series, won the SAW (Scottish Association of Writers) Pitlochry Award, and the sequel, Dead Wood, won the Dundee International Book Prize, as well as the Pitlochry Award. Missing Believed Dead is the third book in the series.
Chris has recently published The Death Game, the first book in a new series. This series is set during and after the First World War, and features Kirsty Campbell, former suffragette and Dundee's first policewoman.
Her crime novels, often described as scary, atmospheric, page turners, are set in Scotland, mainly Dundee, although the novel she is currently working on is set in Gretna. Chris also writes historical sagas, short stories, and historical articles which have been published in America and Britain. She has recently published a non-fiction book - Crime Fiction and the Indie Contribution. She is currently working on a new Kirsty Campbell novel.
Chris lives in the seaside town of Montrose which is 30 miles north of Dundee. She is an Open University graduate with a post-graduate qualification in Social Work, plus a qualification in criminology. She retired early from a social work career in order to concentrate on her writing, but she has also worked in a variety of jobs including - shops, offices, factories, and was even a bus conductress for a time.
Chris is a member of the Society of Authors, the Crime Writers Association (CWA), and the Alliance of Independent Authors (ALLi). She confesses to being a techno-geek who builds computers in her spare time.
If you want to find out more about Chris, check out her biography.
Details

Hits: 1256
October/November 2015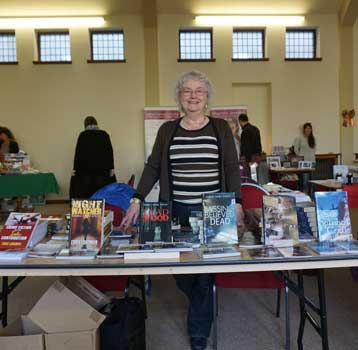 October was quite a quiet month, not much happening, although I did one event - a talk to the Montrose Probus Club. It was an all male club, but the men were delightful and it was nice to know that some of them had read my books. I do like talking at these events, it lets me escape from my study and gives me a chance to meet my readers. The rest of the month was spent reading up about solar panels and seeking estimates. I do like to know as much as possible about anything I want to install, whether that is computer software, or something more technical like solar energy.
So, all geared up on what to expect, the solar panel installers were swarming over my roof at the beginning of November. We'd had beautiful sunshine up until that day, and indeed on the first day of the installation the sun was glorious. On day two of the installation the sun vanished, to be replaced by the thickest fog I'd seen for a long time, and it's been dull weather ever since. I think that's what is called Sods Law! Putting the panels up didn't cause me any disruption apart from the internal electrical work. I hate upheavals. And by the middle of that week my solar panels were up and running. The biggest grief I had over the whole procedure was applying to be put on the FITS (Feed-In Tariff) Register because, apparently, the energy suppliers pay you for some of the electricity you generate. That was nice to know, but filling in the forms was a pain in the neck. Plus when I checked to see if the forms I'd posted had arrived they couldn't be traced. So I applied again, by email this time. I wish I'd done that in the beginning. That started a series of emails flipping back and forth requesting this, that and the other. But eventually it was all done and dusted. Thank goodness for that.
What else happened in November? Well, there was another Society of Authors Committee meeting. It went well, except for the fact that a train had derailed just outside Dundee which knocked my travel arrangements into a cocked hat. I had to get myself to Dundee by bus to pick up a train to Edinburgh from there, and it was the same on the way back. So, what should have been a seven hour time away from home turned into twelve hours before I staggered into my house again.
I also did my first craft fair in November. A fellow author had asked if I would like to take a table at the fair, and of course, I said yes. It was a great experience. I met lots of nice people and sold quite a few books into the bargain. I sometimes think I should be more pushy in my marketing and promotion, but it's not in my nature, and I doubt if I would have been involved in this fair if it hadn't been for my fellow author. But I did enjoy the experience.
As for my new book, the work in progress, well, it's coming along and I think I'm close to finishing my first draft. But a first draft still needs a lot of work and I wouldn't want to publish the book until it is as good as I can possibly make it. So, be patient, once the story is in place it's a dead cert it will reach publication. I just have to knuckle down to the revisions and polishing.
I wonder what December has in store for me?
Details

Hits: 3
Link

to Blog
Chris Longmuir, Crime Writer
To read or follow the blog